Firstly, a huge thank you to Lauren (@Always Me) for tagging me – I absolutely adore her blog and want to extend my gratitude for her continued support from day 1 of opening Intro To Blurb: she has endured all of my nonsensical moments, been fully supportive and *hopefully* not wanted to turn and run a mile after reading a post (very uncommon, I know!)
I absolutely adored the sound of this tag!! My life is constantly a string of "could have, would have, should have" and "what if?" (I'm possibly the most indecisive person you will ever meet) and I love relating this to the blog-o-sphere. I stuck mostly to the original tag, but did replace a couple of the points – *sneaky*
---
1) Totally should've gotten a sequel
I need a sequel for Ready Player One by Ernest Cline –  though a film in the pipeline will somewhat suffice, (also with Steven Spielberg as director, WHAT?!) I would love to re-explore this dystopian world in an extra addition to the series.

---
2) Totally should've had a spin off series
*because self-advertising is cool* Read my review here!
Though this is only semi-informed (I've only read the first of the "Revenants" trilogy) I would love for there to be a spin-off version of Die For Me by Amy Plum. 100% historical fiction would be a necessary turn for the novel – I would love to follow the stories of other Revenants from the past, as they first died, and their reactions to re-awakening. Ancient Egypt? I think so!
---
3) Totally should've ended differently
The Death Cure by James Dashner
I don't think anything can erase the pain of a certain character's death (I won't spoil who – I'm so kind, I know). Eughhhh, and then something else happened just before the end that was so cliché, rushed and unnecessary. I still question why the book concluded in the way it did a solid 3 years after reading it.
---
4) Totally should've had a film franchise
The Testing Trilogy by Joelle Charbonneau would make such a good film franchise – besides appealing to a typical age-range of teenage to YA, I can just imagine the strands of dystopia, drama, romance and death being brought to the big screen.
---
5
) Totally should've had a TV show 
As a self-professed The Walking Dead 
fanatic 
(up there with my loves of a) food, b) sleep, c) the cold-side of a pillow) I feel like
The Enemy Series by Charlie Higson
would make a really  good TV show. I mean, I know not many adults would be able to relate but I think this would be perfect middle grade to YA viewing.
…Well, I'd watch it at least.

---
6) Totally should've had only one point of view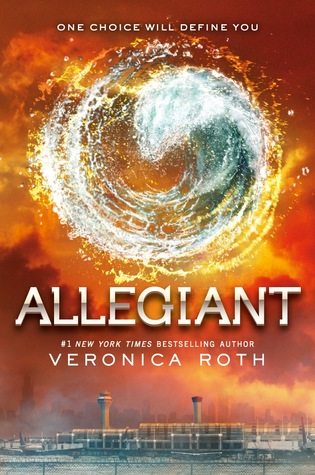 I have to agree with Lauren, and Jay before her it seems, and punt for Allegiant by Veronica Roth. Clearly, this "one viewpoint" matter is a very popular view.
---
7) Totally should have a cover change


and… 8) I totally should've stopped reading.
I don't know whether it's the dated feel of the book, or the humour which just doesn't appeal to me as a 21st century male, but I really just don't connect with Northanger Abbey by Jane Austen. That being said, I had to study it for my English course and so was obligated to read – the dissection of the book probably didn't help!

---
9) Totally should've kept the original covers
Is it just me who really dislikes the most recent cover change for the Hunger Games trilogy? I 
faaaar
prefer my old, crusty, cake-smattered copies.
---
10) Totally should have not pre-judged
Recently, I have really been enjoying reading classics. After firmly holding them at an arm's length (they're so scary), I am glad to say that we are now on a similar wave-length and I am thoroughly enjoying divulging into some well-esteemed, historic literature. Emphasis on the "some" – I'm still not entirely disposed to liking them…
I also can definitely ascertain that I'm not the only one who has to boy themselves up for reading a classic, and so feel slightly less bad.
---
As far as tags go, I would love to extend the baton to a few people who have been utterly supportive of Intro to Blurb thus far (I mean, a new blog can always go either way – I must thank them for coming on the journey with me, and not immediately switching off!)
Of course, this isn't obligatory or exclusive in the slightest – I would love to see any and all takes on the tag theme!
Also, feel free to leave a comment – I absolutely love receiving thoughts, and conversing with anyone and everyone!